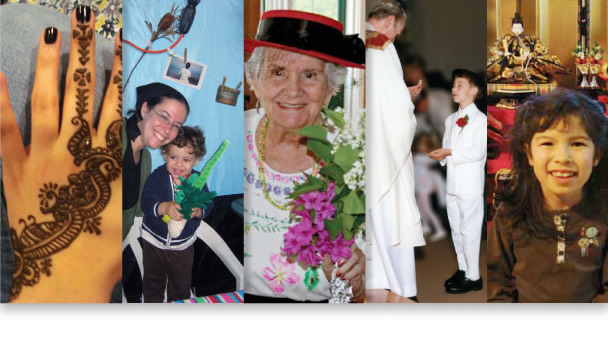 What is SPN?
The Sharon Pluralism Network, Inc. (SPN) is a collaboration among nine organizations and groups in Sharon that partner to support multicultural and interfaith understanding and engagement.
Mission
To create a positive and sustainable culture of pluralism in the town of Sharon, Massachusetts. SPN envisions a community where people from diverse groups:
live together in peace and mutual respect
feel safe and valued
retain their group identity while also being part of a larger community
learn about, interact with, and stand up for each other
work collaboratively with the community at large for the common good
Strategies
To fulfill its mission, the SPN works to:
raise awareness of the value of pluralism, and the strengths and challenges it presents
support educational programs that further understanding about racial, ethnic, national origin, cultural and religious groups, reduce stereotyping, demystify differences in beliefs, history, and practice, increase empathy between people, and showcase the richness of our diverse cultures
foster genuine encounter, dialogue, and relationship-building among individuals and groups
create an inheritance, building a new cycle of leadership to sustain the mission over time
A Steering Committee comprising representatives from SPN Partners, members-at-large, and liaisons to various religious and cultural groups in town meets monthly to oversee SPN's work.
---
Dear Friends,
As we remember the victims of Orlando shooting and their families in our prayers, and struggle to make sense of the senseless violence that has once again found its way into our midst, SPN would like to share a message from Imam Abdul-Rahman Ahmad of the Islamic Center of New England in Sharon.
Dear Sharon Community,
I write to you, our neighbors of all faiths and backgrounds, at a time of incredibly heartache. We have just witnessed one of the worst attacks on US soil, and I am still in shock at the scope and magnitude of the violence. If words cannot express the pain we feel in witnessing such loss, I cannot fathom that of the families of the victims. My prayers for their comfort have kept me sleepless.
Already my faith as a Muslim is being linked to this heinous act in an all-too-familiar pattern. Sunday marked the end of the first week of the holy month of Ramadan, a time of fasting, self-reflection, and seeking forgiveness, and it is incomprehensible to me how someone espousing my faith could turn from the noble spirit of this month to such degeneration and disavowal of its principles. We just completed the burial of Muhammed Ali, a Muslim who spent his life advocating for racial and religious equality, solidarity with minorities, and non-violence; I pray that individuals such as this may come to be seen as the proper representatives of our faith today, not unelected fiends who pervert its name.
The Prophet Mohammed, peace and blessings be upon him, famously told us that "Whosoever kills one person, it is as though they have slain all of humanity," and these words reverberate throughout our community during this time. Notably here there are not exceptions given: we affirm that life is sacred, whether the individual be Muslim, Jewish, Christian, atheist, gay, straight, black, or white. Mohammed was famous in his day for protecting the most vulnerable in his community, whether or not they were Muslim; in honoring his legacy today, it is our duty to do the same.
My brothers and sisters, I ask you to join me in prayer during this time of pain for so many, lifting them up before God in their shattered state. I pray that out of the horrors of this act may come greater unity between all of our communities here; that its legacy may be one of love, not hate. I ask you to join me in making this a reality.
Sincerely,
Imam Abdul-Rahman