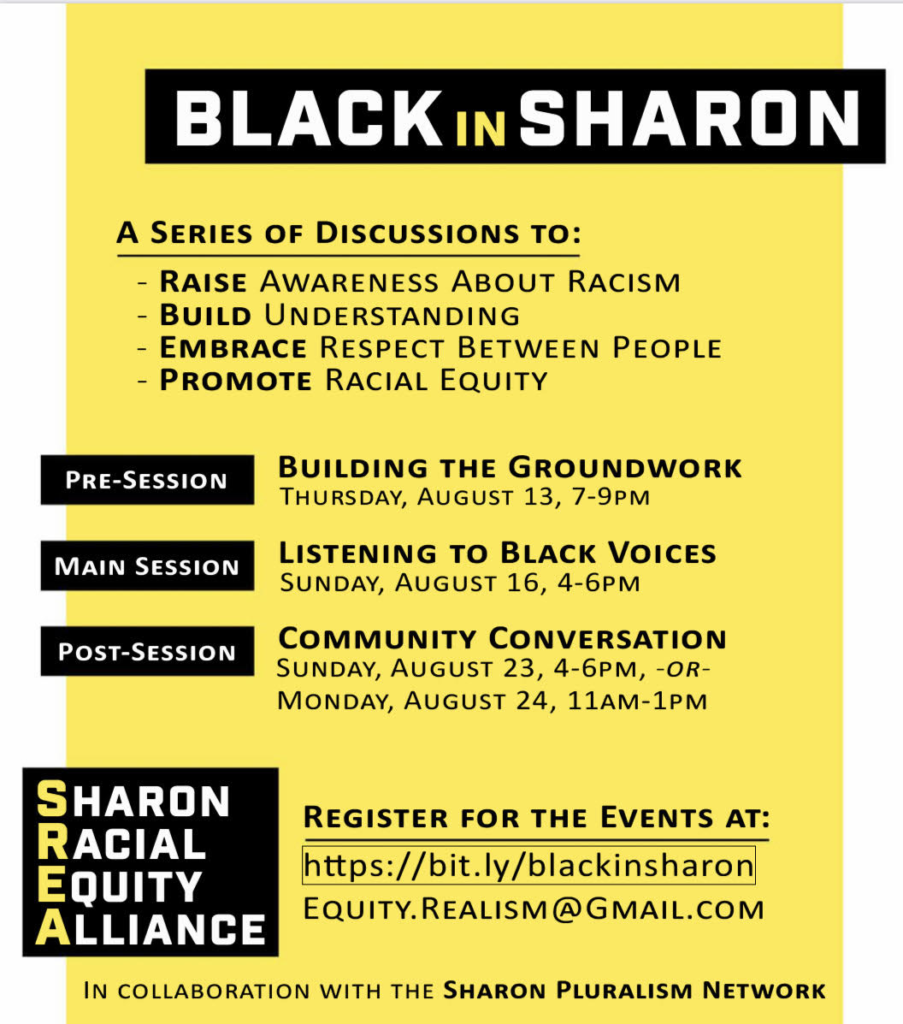 Black in Sharon: Acknowledging and addressing racism in Sharon
This program was a collaboration of the Sharon Racial Equity Alliance (SREA) and the Sharon Pluralism Network (SPN) to create opportunities in our community that raise awareness about racism, build understanding, embrace respect between people, and promote racial equity.
The focus of this 3-part series was a listening session, in which Black people who live, learn, visit, or work in Sharon shared their experiences of racism. The pre- and post-sessions were meant to lay the groundwork and provide an opportunity to have a community conversation.
PRE-SESSION: BUILDING THE GROUNDWORK
This session, led by members of Sharon Pluralism Network and Sharon Racial Equity Alliance laid the groundwork for the next 2 sessions and focused on:
· Why NOW is the time to challenge racism and create true and lasting equity and inclusivity, both in the town of Sharon AND the nation. This is particularly true for Black people who have endured a culture of whiteness and Institutionalized racism for centuries.
· How to get the most out of the listening session on August 16th and then process what you have heard.
· Why building personal relationships is so important. After a short video, we will break out into small groups where you will be invited to share with at least one other participant why you have attended and/or your reaction to the video.
· Plans for future opportunities to continue doing the important work of listening, self-education and action (Book Clubs, Ted Talk Discussions. etc.)
MAIN SESSION: LISTENING TO BLACK VOICES
This session was a webinar in which Black people who visit, live, learn, or work in Sharon shared their experiences of racism. Participants engaged only as listeners.
POST-SESSION: COMMUNITY CONVERSATIONS
After some introductory framing and remarks, participants were invited to engage in small group break-out rooms to share the thoughts, feelings and reactions that arose for them during the Listening Session. The discussions in these break-out rooms were facilitated by members of Sharon Pluralism Network , Sharon Racial Equity Alliance and members of the Interfaith Clergy Association.
Watch this space for updates and resources.
We would love to hear from you. Please send us your feedback and ideas here