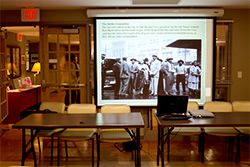 Chuck Walker, Jr., former member of the Sharon MLK Committee, asked the question of Wednesday night's panel, "What does Dr. King's legacy mean to you (in one word)?" For me, the word I would use is "unity." His legacy of unity made it possible for organizations such as the Sharon Pluralism Network to inspire people of all cultures to not simply coexist but to collaborate on activities for the common good. His legacy made it possible for young people to connect through events such as the Teenage Identity and Diversity Education (TIDE) sponsored by YouthLEAD — an organization dedicated to youth leadership and community-building programs. Without Dr. King's legacy of passion for justice, young and old alike today might not be so inclined to value the power of living, working, and participating in life together.
My own life experience has been greatly enhanced by connecting with and staying connected to a spiritual community whose doctrine is love, truth, and service. I feel like it was only a matter of time before I shifted my own paradigm so as to become more involved in community. There may be days when I don't feel close to a promised land; but, I do recognize that it is up to me to light the flame of involvement and participation in the community.
Seeing young people of diverse cultures up on the panel surely would have made Dr. King proud. Speaking with them after the talk ended gave me the sense that they do appreciate the opportunity they have to actively participate in a world that values justice. In the years since his passing, I would like to think that generations of Americans have the capacity to expand their respective comfort zones and will increasingly do so — in their own shoes. Dr. King has already done the marching toward that promise.
SPN's Mission
To create a positive and sustainable culture of pluralism in the town of Sharon, Massachusetts. SPN envisions a community where people from diverse groups live together in peace and mutual respect; feel safe and valued; retain their group identity while also being part of a larger community; learn about, interact with, and stand up for each other; and work collaboratively for the common good.
Partnering Together

Each SPN Partner has its own structure, purposes and goals; each fulfills different roles and serves different populations in town. However, all SPN Partners overlap to varying degrees in their roles, goals and the populations they serve. Each has an interest and investment in meeting the needs of all members of our increasingly diverse community.
By partnering, SPN builds collaborations among the member organizations to support each other's multicultural and interfaith work. A main thrust of SPN is to partner together and share resources, so that each organization's effectiveness in the community can be enhanced in ways that go beyond what can be achieved when working separately.
Funding

SPN and its projects have been supported by Third Sector New England, Eastern Bank Charitable Foundation, and Mass Humanities. Youth LEAD is the fiscal sponsor as the founding partner. SPN is in the process of seeking 501 ( c ) 3 non-profit status.
---