Community Speak-Out 2021
Sun, May 23, 2021 3:00 PM – 6:00 PM
You are invited to Sharon Pluralism Network's Virtual Community Speak-Out 2021, with funding and support from SSPARC.
Given these very challenging times, with many people expressing feelings of isolation and disharmony, we are offering the community an opportunity to come together and foster a sense of shared experience and belonging. The Speak-Out will be led by Tabitha May-Tolub, a professional facilitator with extensive experience in community building. We will utilize group discussions and activities to explore compassionate and respectful ways to strengthen our community.
Note that the ZOOM LINK for this event will be provided in a separate email by May 22nd.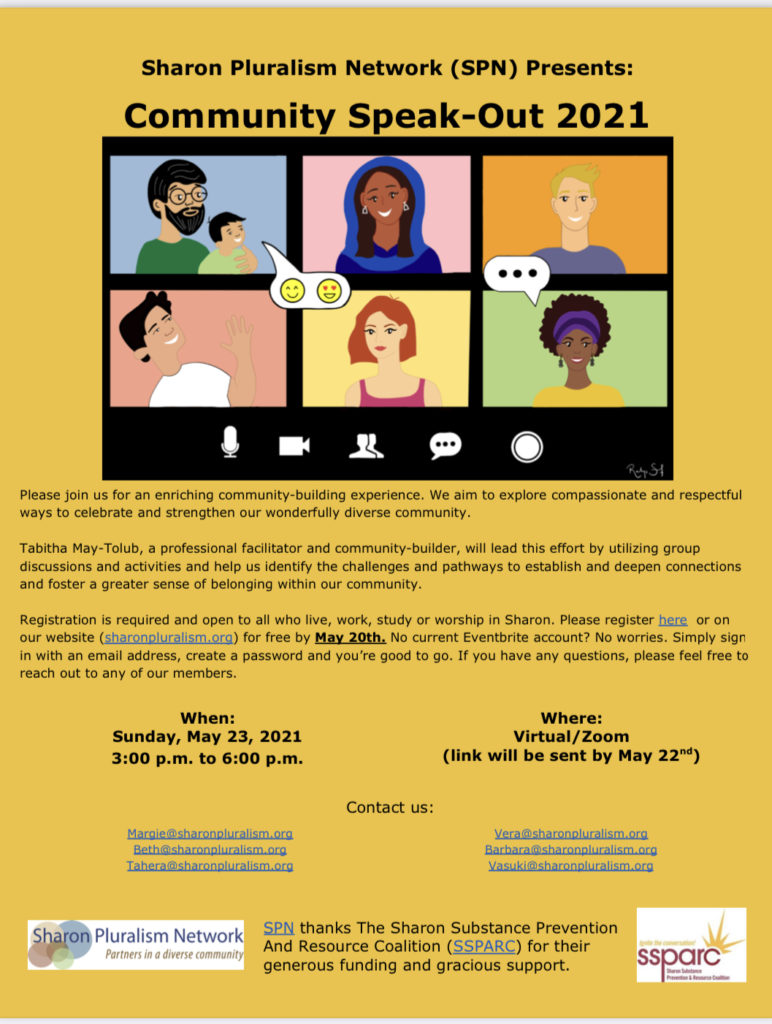 Community Speak-Out 2014
Sharon's first Community Speak-Out, held on February 9, 2014, provided an opportunity for people connected to Sharon (who live, work, worship, study, etc. in Sharon) to meet with other members of our increasingly diverse community to learn about one another, explore our differences and similarities, and gain new understandings. Participants shared experiences and collaborated with members of the Sharon Pluralism Network and others to develop creative and thoughtful ideas to strengthen and celebrate the Sharon community.
Based on the successful Teen Speak-Out program at Sharon High School, 67 participants came together for large and small group activities that provided interesting, perhaps provocative, and fun ways to meet each other and share ideas. A sampling of food from different cultures augmented the day. You can read about the day in the Boston Globe South Section.
Archive
In August 2011 three SPN partner collaboration projects were selected and funded for implementation. Partners met and discussed ways to work together to forward SPN's mission and goals and to address the needs of their constituents by expanding their contacts with a diverse community. The Community Speak-Out is one of the projects.